CONSIGNMENT AUCTION
Thursday 6/22/17, 6:00 pm
(scroll down for photos – photos are listed by category)
RARE:  1938 John Deere BR tractor, serial # 328355, new tires front & rear, great shape, looks sharp and will sell at 7:30pm!
 COLLECTIBLES & ANTIQUES: (2) antique "sickle" grinders – rarely seen at auction anymore; blacksmith anvil on cream separator stand; rare – land measuring wheel (measures in "rods"); old Clinton gas motor; roll of antique barb (razor) wire; green "coffee" jar; 2-1964 Custer County plat books; Loup County plat wall map; political & advertising buttons; hand meat grinder; Boys Scout first aide tin; grenade pin; wooden nickels; hog scraper; old office stapler; tins; WWII history picture book; Underwood manual typewriter; Doris Lake history; engraved walking stick; collection of old books; Civilians Conservation Corps foot locker; round top trunk; old wood bench on metal wheels; old wood nail/staple box; unique carpenter's cabinet, w/ tools!  Blatz (Milwaukee's first bottled beer) beer tray.
PICTURES/PRINTS: CM Russell print – 2 cowboys roping a cow; 4 – John Wayne movie pictures (McLintock, McQ, Cahilll & Sons of Katie Elder).
HUNTING/RECREATION: Coleman 17' canoe; very nice 9 place gun cabinet; Yukon "Tracks" portable blind; fishing poles & stand; small archery target; Coleman propane camp stove; fish cleaning sink; can cooker; Boys Scout knapsack; 4-gun cases; bow & arrow case; bulk dog feeder; antelope decoy; Minnesota mosquito trap… JUST IN – a rare glass (jar) minnow trap, by C F Orvis;  antique life jacket (from Wisconsin).
HOUSEHOLD: like-new Whirlpool countertop range, Frigidaire built-in oven; Kenmore under-cabinet microwave; Meilink safe (16.5" wide, 25"deep, 22" tall); space heater; oak stereo cabinet, stereo component stand; 42" diameter round table; 5-wooden stools; oval mirror w/ white frame; coffee table; cowboy/cowgirl wall lamp; purple end table; shelf stand 39"x13"x5"; white table lamp; 4-heat detector alarms; Farberware 3-dish warmer/server; shelf stand 5'x3'x1'; Oreck vacuum; swivel rocker; 4-cane bottom wood chairs; 4-oak chairs; small drop-leaf table w/ drawer; small rocking chair; wood chair; small bed frame; child's crib; Jiffy model J-2 clothes steamer; .
SHOP/GARDEN/TOOLS: metal lathe; 4-drawer rolling tool cabinet; 2 – new air tool hoses, 100'x3/8" & 50'x3/8"; Rigid tool bag; (4) 6" swivel dolly wheels; Reese bumper hitch; 9 tire rims that fit a Dodge Dakota; pick-up tool box; car ramps-7000 lb. cap.; shelf stand 6'Tx8'Lx1'D w/ wire screen backing; 40×51 double pane window; 31.5×79 ext. wood door w/ top window; 3-electric robot arms.
More items yet to arrive, stop into C Street in the afternoon and check them out! 
For information or to leave a bid, call Jim at 308.870.0912 or Don at 308.870.2426
More items will continue to be listed – stay tuned
Thanks,
Jim
PHOTOS:
1938 John Deere BR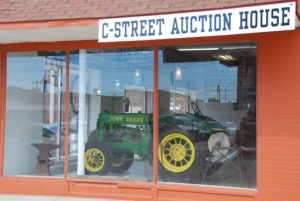 Collectibles & Antiques
Pictures/Prints
Hunting/Recreation
Household
Shop/Garden/Tools
Thanks, Jim